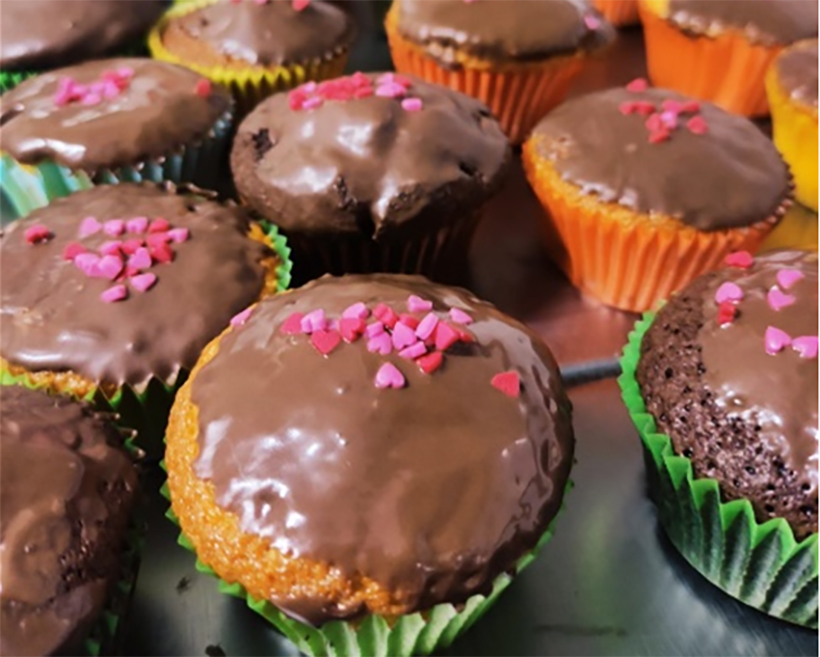 An inspiring story of chocolate muffins for the homeless in London
Everyone knows one way or another that homelessness is a problem. However, what many don't really want to realize is that it has also become an increasingly pressing problem in many major European cities over the past few years.[1] This has become shockingly obvious during the COVID pandemic which has not only exacerbated the situation for people who are already homeless, as Deborah Ruppert describes for homeless people in German cities, but has also left many people previously employed in very normal jobs with next to nothing. [2] The inherent task of finding solutions to this dilemma often tends to be left to anyone other than the individual, such as politicians or humanitarian organizations. What can a humble little contribution in the end really change? After meeting Toni, a student in London who bakes muffins for the homeless in London, I would say a lot.
How did the idea of ​​making muffins for the homeless come about?
"In fact, this idea emerged very spontaneously during and in part because of COVID. During the first lockdown, when everything was closing, my friends and I had more time than we knew how to put to good use – we had already been through Netflix. We were making pastries at that time, but only for our friends and ourselves. The idea of ​​cooking for the homeless, however, "came up" more or less accidentally. One day we joked that we were already gaining weight because we had to eat everything in the oven! At the same time, one of our neighbors was volunteering at a nearby food bank and told us that due to COVID, the number of people dining there had increased dramatically. Somehow we thought about it and decided that it would be a great idea to share our muffins with people who were hungrier than us thanks to this food bank.
This is indeed a great idea. Do you also participate in their delivery? What exactly do you do when you volunteer?
"Basically, we try to cook at least every two weeks for the food bank at home, then we help prepare and serve them to customers who, because of COVID, are still only served take-out. It's like combining what we really love doing and helping others who really appreciate that extra bit of extra – and positivity! By actually connecting with the guests there, around 80-120 people from the most different backgrounds and including refugees, you get a totally different perspective on homelessness. The rough idea of ​​homelessness because it's not ambitious or "normal" enough, or even a criminal, is certainly not true. Many guests you come into contact with have a very tragic story to tell and only a story that a stranger can only partially understand. For example, due to COVID, many people who lost their jobs in an office or in production found themselves queuing for food donations – a situation many of them never imagined. It is sometimes shocking to see how some people end up on the street or how quickly it can get there: because of a divorce, an accident, bad luck or COVID, for example.
Many argue that 'small-scale volunteering' does not sustainably help tackle homelessness and endorse top-down (policy) approaches. What is your opinion on that since you are clearly doing the opposite?
"Why will we only follow one approach? In my opinion, we need both. It is undeniable that policies and social security, for example, are effective in establishing a system in which homelessness can be tackled or, at best, does not even exist. Having been in contact with real homeless people, however, I also strongly believe that it is important to work directly with people and not just to treat them as "social products" which can in the same way as production processes alternated according to plans and agendas designed by people who probably never really had contact with homelessness themselves.

Moreover, I also believe that small positive things often contribute more than we realize and are able to measure in numbers. I wouldn't say that a little chocolate muffin can permanently alter the causes of homelessness, but in combination with a few uplifting words and time, it can definitely bring positivity into the life of a waif – a person who may also have chosen to stick with alcohol instead. Doesn't this approach also make it more humane to help humans? We need both.
Many say they don't really have time to volunteer. What is your opinion on that?
"The argument that we don't have time to give back to others in any form is actually left on shaky ground when you consider that how we spend our time comes down to our priorities. At the end of the day, we all have 24/7 that we are free to devote to whatever we deem most appropriate, right? in a week to give back to family, friends or society, such as volunteering, when being presented with so many opportunities, it's time to reconsider. Don't we often waste the time that we could have spent helping others in any context with actually rather unimportant things?"