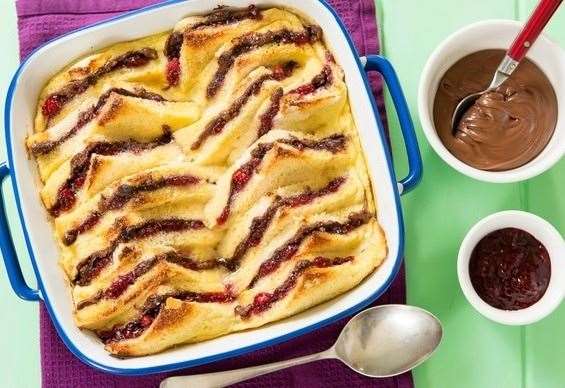 Chocolate bread and butter pudding
A warming sweet treat and a great way to use up slightly stale sliced ​​white bread.
Ingredients
200g good quality milk chocolate
75g of butter
250g (about 10 slices) white bread (Use the crusts – they are as good as the rest of the bread.
3 eggs
1 teaspoon ground cinnamon
25g caster sugar
1 vanilla pod
600ml milk
Cocoa powder and icing sugar for dusting
Method
Preheat oven to 180°C, 350°F, Gas Mark 4.
Lightly grease the sides of a 30 cm x 20 cm (12 in x 8 in) baking dish. Break up the chocolate and, together with 25 g of butter, put it in a heatproof bowl set over a saucepan of slightly simmering water. Leave until melted. Stir lightly.
Cut the slices of bread into four triangles, keeping the crust. Arrange about half of the slices, overlapping them, in the dish and coat with melted chocolate sauce. Arrange the remaining bread, overlapping them, to form a second layer.
Melt the remaining butter in a saucepan and remove from the heat. Beat the eggs with the cinnamon, sugar and seeds from the vanilla pod. Add butter and milk and mix well. Pour the mixture over the bread so that all the bread is saturated. Leave to rest for an hour.
Bake the pudding for 45-50 minutes until the cream is set and the bread is golden brown.
---
Do you want to react to this article ? If yes, click here to submit your thoughts and they may be published in print.
---