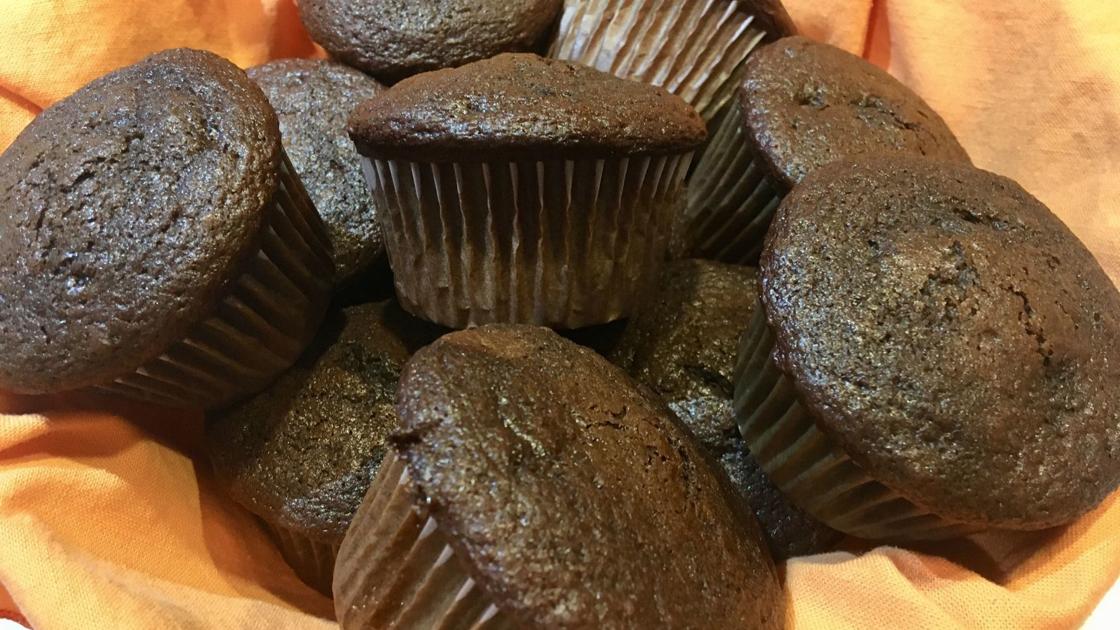 Chocolate muffins – because breakfast is the most important meal | Food and cooking
GREG PATENT for Lee Montana newspapers

I came across this recipe on a most unlikely site: La Cucina Italiana, Italian cuisine. What was this very American recipe doing there? My confusion cleared up when I watched a video of Paul Feinstein, a Los Angeles-based travel and cuisine writer, preparing the recipe. A key ingredient turned out to be brewed Lavazza, an Italian coffee brand.
I wrote down the recipe as Weinstein put the components together in stages: dry ingredients mixed in a large bowl, liquids in a medium bowl, and the two combined to create a thick paste. After mixing a final addition of chopped chocolate coated almonds, the batter is spread into paper-lined muffin cups and baked.
I decided against almonds in favor of sweet and sour chocolate chips. If the muffins are chocolate, let them be all chocolate. No nuts need to interfere.
For the coffee, I replaced the Medaglia d'Oro instant coffee dissolved in hot water. If you prefer, just use regular brewed coffee. Coffee and chocolate are magic together.
It's pie time! Rhubarb-blueberry, to be exact
These breakfast muffins could just as easily be called cupcakes and served as a dessert. Their light textures, smoothness and rich chocolate flavor work any time of the day. If you wish, you can decorate your creations with a chocolate ganache for a festive presentation. I prefer to keep it simple and serve the muffins / cupcakes as is.
Chocolate muffins or cupcakes for breakfast
I modified the recipe slightly from the version I watched on La Cucina Italiana. I replaced the buttermilk with regular milk, added an egg yolk, increased the vanilla, used Medaglia d'Oro instant coffee, and mixed chocolate chips into the batter. Make sure the brown sugar is free from lumps. Depending on your supply, hard clumps should be strained or crushed until smooth. If your cocoa has lumps, filter it before measuring.
Great liners for baking tins, if using
1 1/2 cups all-purpose flour (6 3/4 ounces)
1/2 cup filtered unsweetened cocoa, preferably high in fat (natural or processed in the Netherlands)
1 cup firmly packed brown sugar (7 ounces), light or dark
1/2 teaspoon of baking powder
3/4 cup sweet and sour chocolate chips (to be incorporated into the batter at the end)
1 tablespoon of Medaglia d'Oro (or instant espresso) dissolved in
1/4 cup very hot, cooled to lukewarm water
1 large egg + 1 large egg yolk
1 stick of unsalted butter (4 ounces), melted and cooled to lukewarm
1. Set an oven rack to the third lower position and preheat the oven to 375 degrees. Prepare a standard 12-cup muffin pan. Coat the cups lightly with cooking spray or line them with large baking tins. If you don't have large paper liners, use the spray instead.
2. In a large bowl, mix together flour, cocoa, brown sugar, baking soda, baking powder, salt and cinnamon. Take about a minute of whipping to make sure everything is combined. Save the chocolate chips for later.
3. In a medium bowl, whisk together the dissolved lukewarm coffee, buttermilk, vanilla, egg, egg yolk and melted butter until smooth. Add to the dry ingredients and mix gently – using a folding motion – with a large flexible rubber or silicone spatula until the dough is smooth. Add the chocolate chips.
4. Distribute the batter evenly among the muffin cups. They will be well filled. Bake for 15 to 20 minutes, until the muffins are well rounded and a toothpick comes out clean. Test at 15 minutes. Muffins usually need about 2 more minutes to bake.
5. Cool the muffins in their molds for 5 minutes, then unmold them and transfer them to wire racks to cool. Serve hot or at room temperature. If you are making cupcakes, let them cool completely before frosting them.
NOTE: To refresh muffins lasting a few hours, simply microwave them for 10-20 seconds at full power. They will become light and tender again. Freeze leftover muffins in heavy-duty zip-top bags for up to 2 weeks. Thaw them in the bag. You can microwave them to give them a fresh taste.
Greg Patent is a James Beard Award winning cookbook author for "Baking in America," a food journalist, blogger, and radio co-host for "The Food Guys" on Montana Public Radio. Thank you for subscribing to his blog, www.thebakingwizard.com, and follow his adventures on Twitter, Instagram and Facebook.