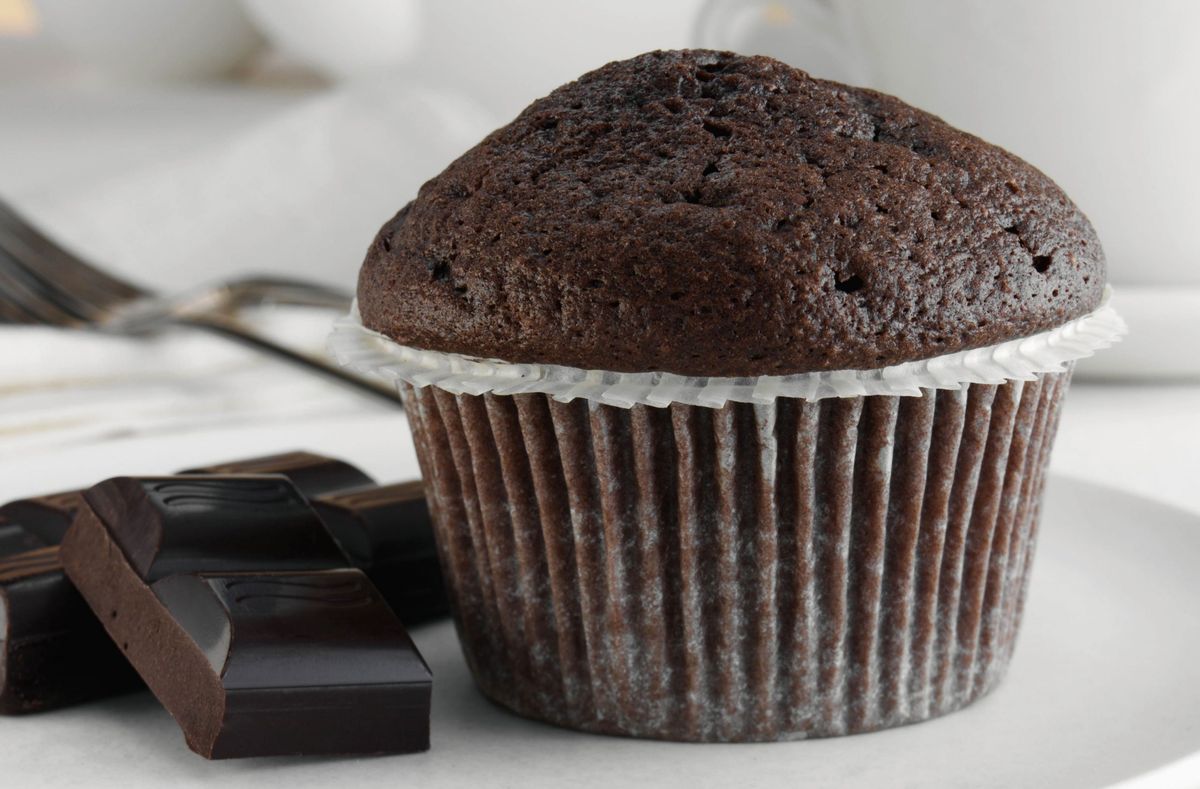 Chocolate muffins | Pastry Recipes
Bake a batch of these classic chocolate muffins in just 30 minutes.
Pack these rich chocolate muffins with plain chocolate chunks for an indulgent treat. Our tester Rebecca told us, "I make muffins for a living and this is how I would make chocolate muffins. I tried this recipe and it is really delicious." The secret ingredient of olive oil and a hint of milk make them extra spongy and chewy.
Ingredients
250g self-rising flour
25g cocoa powder
2 tsp baking powder
175g caster sugar (or 125g caster sugar and 50g muscovado sugar)
175ml milk
2 large eggs, beaten
100ml mild olive oil (or you can use sunflower oil if it's too strong)
75 g dark chocolate pieces
1-2 tsp vanilla extract
Method
Preheat oven to 170°C, gas 5. Line a deep 12-hole muffin pan with paper muffin cups.
Sift together the flour, cocoa and baking powder. Stir in the sugar. Add the rest of the ingredients and mix lightly.
Pour the mixture into the prepared cases. Bake for about 20 minutes or until golden and springy to the touch. Cool for 10 minutes; transfer to wire rack and let cool completely.
Watch how to make chocolate muffins
The best tips for making chocolate muffins
If you can't find plain chocolate chips, choose white or dark. You can also roughly chop a chocolate bar and use that instead.
How to make extra moist chocolate muffins?
In this recipe we have used olive oil instead of butter – using olive oil results in a much softer and silkier muffin mixture so when cooked it leaves you soft and spongy muffins. We also used milk in this recipe, which is again a moist ingredient that increases the moistness of the batter as well as the muffins sponge after baking.
Are muffins better made with oil or butter?
In our opinion, muffins are best made with olive oil, but they can be easily made with butter if you don't have enough olive oil. We recommend melting the butter and cooling it before adding the moist muffin mixture, so that it has the same consistency as olive oil. In this recipe we used 100 ml of olive oil, this can be replaced with 100 g of butter.
You might also like…
Blueberry Muffins (opens in a new tab)
Banana muffins (opens in a new tab)
Chocolate chip muffin (opens in a new tab)