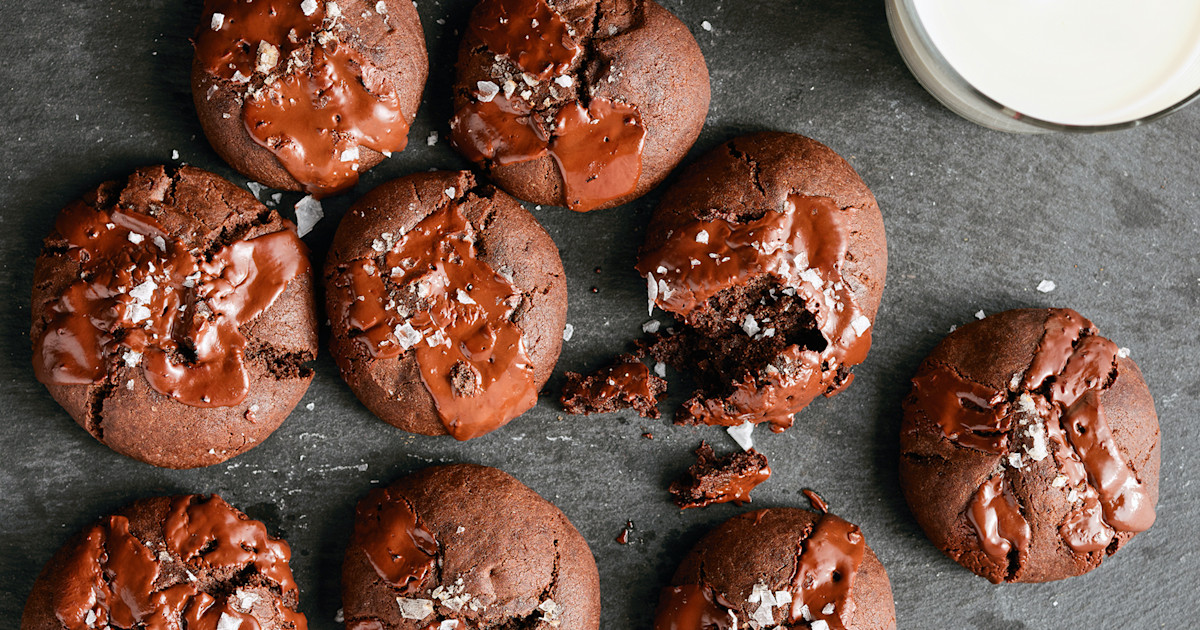 Gluten Free Vegan Double Chocolate Cookies Recipe
Chef's Notes
If you don't tell people these cookies are gluten-free and vegan, they'll never know. I love leaving a bunch of these on the counter for the girls to enjoy when I have to go on a work trip. It's my "so sorry I'm gone but scare it and you'll forgive me" plan, and it hasn't failed me yet!
Technical tip: When measuring cocoa powder, be sure to pour the cocoa into the measuring cup before leveling it with a spatula. Scooping up the cocoa with the measuring cup will yield too much cocoa for this recipe.
Possibility of exchange: If you don't need it to be gluten-free, go ahead and use regular all-purpose flour.
Preparation
1.
Preheat oven to 350 F. Line two baking sheets with parchment paper.
2.
In a medium bowl using an electric mixer, cream the coconut oil, brown sugar and granulated sugar until fluffy, 3-4 minutes. Add the almond milk and mix on medium speed until completely incorporated. Scrape down sides of bowl and mix for another 1 minute. Add flour, cocoa powder, salt, baking soda and baking powder. Mix on low speed until all ingredients are incorporated and well blended. Add 1 ½ cups chocolate chunks and mix by hand until evenly distributed.
3.
Drop 2-tbsp mounds of batter onto prepared baking sheets, spacing cookies at least 2 inches apart. Press the remaining chocolate pieces on top of the cookie dough balls and sprinkle a small pinch of flaky sea salt on each. Bake for 9 minutes. When you gently touch the center of a cookie, it should feel soft and not bounce, but it won't be runny or jiggly.
4.
Let cool completely on the molds. Store in an airtight container or zip-top bag at room temperature for up to 5 days.