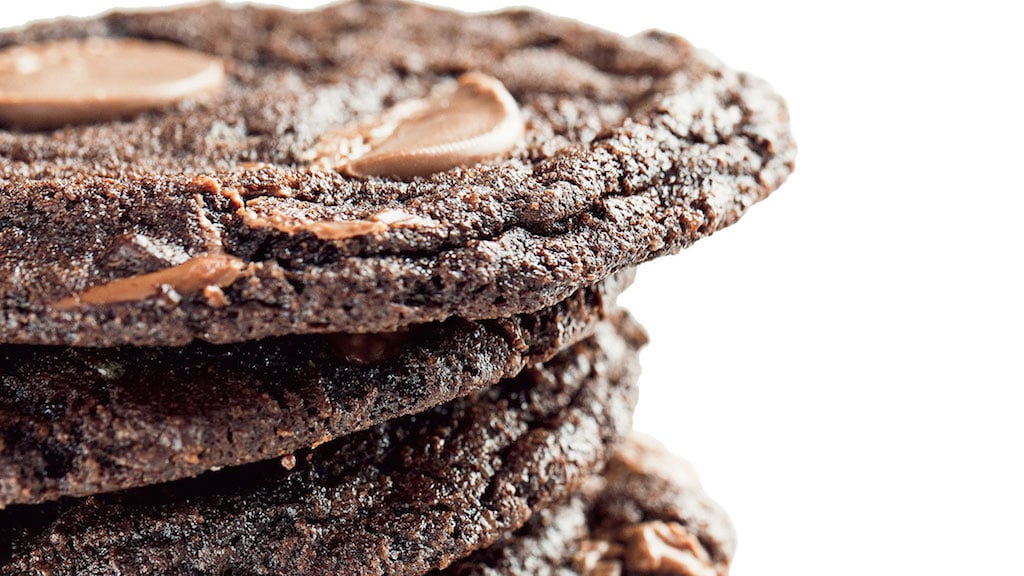 How to Make Double Chocolate Cookies from Buttercream Bakeshop
You might have heard of Nutella ho-hos and passion fruit flakies rightly on Tiffany MacIsaac's Buttercream Bakeshop, four-month-old (1250 Ninth St., NW; 202-735-0102). The menu sleeper? These less flashy double chocolate cookies. They're made with dark chocolate and sprinkled with plenty of milk chocolate chunks, but their airy, fluffy texture keeps them from getting too rich. That means you'll probably have a hard time stopping at just one.
(Makes 18-24 cookies)
1 stick unsalted butter at room temperature
12/3 ch. sugar
½ tsp. instant espresso powder
3½ ounce high quality dark chocolate bar, melted and chilled 10 minutes
2 large eggs
1 ea. plus 3 tbsp. plain flour
7 tbsp. dark cocoa powder (preferably Valrhona)
½ tsp. baking soda
½ tsp. baking powder
Pinch of salt
3 ½ ounce high quality milk chocolate bar, cut into medium pieces
Combine the butter, sugar and espresso powder in the bowl of a mixer fitted with the paddle attachment. Stir over medium-low heat until fully combined and creamy. (Do not incorporate air or whip at high speed.)
While mixing gently, add the melted chocolate. Scrape the sides of the bowl so that the mixture mixes evenly. Add the eggs one at a time, mixing well, then scraping down the sides of the bowl before adding the next. Turn off the blender.
In another bowl, combine the flour, cocoa powder, baking soda, baking powder and salt. Whisk until smooth. (If the mixture is lumpy, sift it.) Add the flour mixture to the butter mixture. Stir to combine, then stir in the chocolate pieces. Divide dough into 18 balls and refrigerate 60 to 90 minutes, or up to three days.
When you're ready to bake, preheat the oven to 325 degrees. Line two cookie sheets with parchment paper. Place 9-12 cooled dough balls on each tray and bake for 12-16 minutes, rotating trays 180 degrees after the first 8 minutes. The cookies will be soft when you press down on the tray and the center of the cookie will start to deflate. (Bake a few more minutes if not.) If you prefer crispy cookies, bake an additional 3-5 minutes.