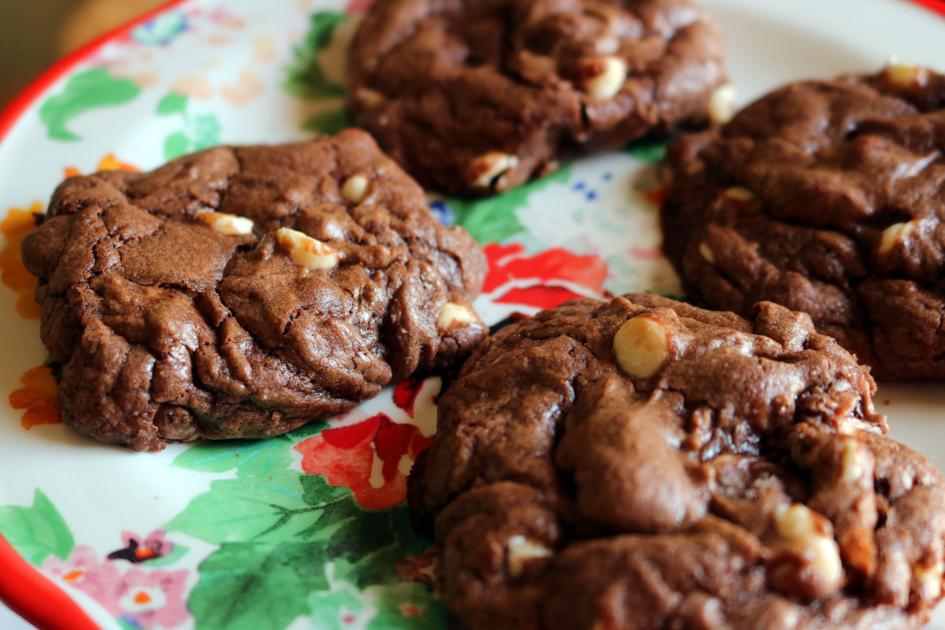 Recipe: Nestlé Tollhouse Double Chocolate Cookies | Friday
First of all, let me apologize to any Trim Down teams who might be reading this right now. I'm sorry, but chocolate has to come first today and only today!
In honor of today's Samaritan Caregiver Chocolate Celebration, I wanted to share my favorite Double Chocolate Chip Cookie Recipe. And yes, it comes from the back of a Nestlé Tollhouse bag.
Does anyone else remember that episode of "Friends" where Monica and Phoebe try to come up with the recipe for Phoebe's famous grandma's chocolate chip cookie recipe? They only have one cookie to base the recipe on, and Monica bakes about 10 different batches to try and find the right one.
After practically giving up the whole business, Phoebe lets slip that her grandmother got the recipe from a famous French baker "Nestlé Tollhouse". That's when they realize that the famous recipe is just the simple recipe from the back of the bag.
Sometimes even those fancy "secret" recipes can't beat the old-fashioned recipe that's always been on the back of the bag.
And for all of the Trim Down crews, just one of these cookies contains 110 calories, so having just one won't ruin your diet unless you've given up on sugar altogether. I come back next week with more healthy recipes!
Nestlé Tollhouse Double Chocolate Cookies
Ingredients
2 1/4 cups all-purpose flour
1/2 cup cocoa powder
1 teaspoon of baking soda
1/2 teaspoon of salt
1 cup (2 sticks) butter or margarine, softened
1 cup packed brown sugar
3/4 cup granulated sugar
1 teaspoon of vanilla extract
2 large eggs
2 cups of chocolate chips of your choice (I used white chocolate)
instructions
Preheat the oven to 375 degrees.
Combine flour, cocoa, baking soda and salt in a small bowl. Beat butter, brown sugar, granulated sugar and vanilla extract in a large mixing bowl until creamy. Beat the eggs for about 2 minutes or until light and fluffy. Gradually incorporate the flour mixture. Incorporate the pieces. Drop by heaped tablespoon on ungreased baking sheets.
Bake 8 to 10 minutes or until cookies are puffed. Cool on baking sheets for 2 minutes; remove to wire racks to cool completely.