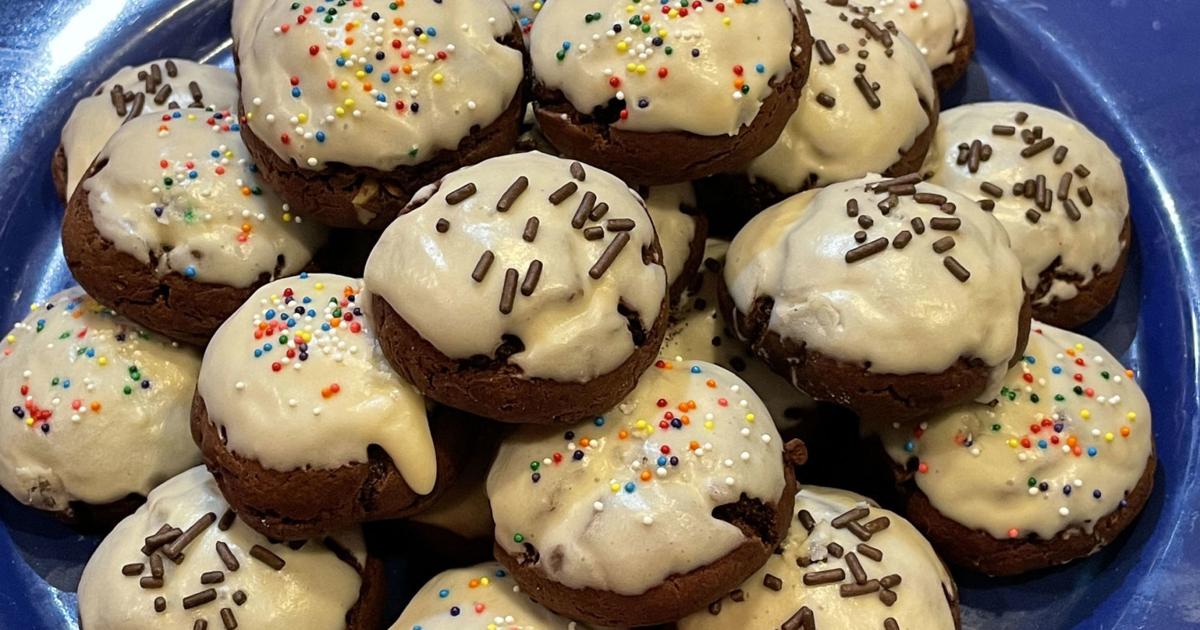 Roman Chocolate Cookies | Food and cooking
GREG PATENT for Lee Montana newspapers

I've been in a chocolate mood lately: chocolate cake, chocolate brownies, chocolate lollipops, chocolate ice cream and, of course, hot chocolate to keep me warm on those freezing winter nights.
Years ago, when I was busy researching and collecting recipes for my cookbook, "A Baker's Odyssey" (Wiley, 2007), second-generation Italian-American Catherine Cavallaro Goodman told me. featured a few Italian cookie recipes that she thinks might work. in my book.
One of the recipes, Roman Chocolate Cookies, immediately caught my eye because it contains olive oil. I made a lot of cakes with olive oil, and seeing it in a cookie intrigued me. Catherine told me that she learned to cook from her mother and aunts and their sweet recipes often contain olive oil.
This particular cookie tastes similar to gingerbread as it is spiced with a bit of cinnamon, nutmeg and allspice. It's as sweet as gingerbread. The cookie itself is not that sweet. Only 1/2 cup of sugar goes in 36 cookies. The frosting adds just the right amount of added sweetness.
The chocolate comes from unsweetened cocoa powder and semisweet chocolate chunks, the latter being an addition from Catherine.
Roman chocolate cookies are quite easy to prepare, and the recipe is a bit unusual in its method. You start by beating the eggs until they are quite frothy. This step prepares them for the sugar, which you incorporate well and continue beating for a few minutes until the eggs have thickened and are almost white. Then you pour a drizzle of olive oil very slowly, as if you were making mayonnaise. After that, add milk and vanilla, then stir in the dry ingredients with a wooden spoon to get a very thick paste.
After a 30-minute break in the covered mixing bowl, you shape the cookies into small balls by rolling chunks of dough between your palms. The olive oil in the dough keeps the cookies from sticking to your hands.
This is a wonderful recipe to make with the kids. They can help shape dough, frost cookies, and sprinkle decorations.
Catherine says this recipe is a Christmas treat, but she and I bake these cookies whenever the impulse strikes because they are so delicious. Good pastry!
Roman Chocolate Cookies
I don't know what makes these chocolate nut cookies spicy and not too sweet romans, but I love them! Catherine Cavallaro Goodman learned how to bake cookies from her Aunt Marie, and over the years Catherine has tweaked the recipe slightly. His most recent change is the addition of mini chocolate chips to the dough, a thumbs up to the chocolate lovers in his family. But Catherine says you can add chopped dried cherries (certainly American) or finely chopped citron (Italian) in place of the chocolate.
I always add chocolate chips, mini or regular. These cookies are best when they are fresh.
2 cups plus 2 tablespoons unbleached all-purpose flour (300 grams; measure by stirring the flour in its container, dipping it into a dry 1-cup measure, filling until overflowing without shaking cup and brushing off the excess with a straight edge; repeat for the second cup and do the same with a tablespoon)
1/2 cup drained unsweetened cocoa powder (48 grams)
2 1/2 teaspoons of baking powder
1/2 teaspoon ground cinnamon
1/4 teaspoon freshly grated nutmeg
1/2 cup extra virgin olive oil
1/2 cup walnuts or pecans, medium fine chopped
1 cup mini or regular semi-sweet chocolate chips
1 1/4 cups icing sugar (filtered if it is lumpy)
1 1/2 tablespoons of soft butter
2 tablespoons of milk, more if needed
Colorful sprinkles and chocolate jimmies
1. In a medium bowl, combine flour, cocoa, baking powder, salt, cinnamon, nutmeg and allspice. It takes longer than you might think; stir with the whisk for 1 full minute. In another medium bowl, beat the eggs with an electric hand mixer or a stand mixer with the whisk on medium to medium-high speed for 1 to 2 minutes, until the eggs are filled with small bubbles. . Continue beating and gradually sprinkle with caster sugar. Beat until eggs thicken slightly and turn whitish, 2 to 3 minutes more.
2. Scrape the bowl. While beating at medium speed, slowly drizzle with a drizzle of olive oil. It may take 2 minutes; it's like making mayonnaise. At low speed, add the milk and vanilla.
3. Using a wooden spoon, add the dry ingredients in two batches, stirring until smooth after each; then stir in the nuts and chocolate chips. The dough will be very thick and keep its shape in the spoon and be a bit sticky. Cover the bowl loosely with a tea towel and let the dough rest for 30 minutes.
4. Meanwhile, adjust an oven rack to the center position and preheat the oven to 350 degrees F. Line two 14 x 17-inch thick cookie sheets with parchment paper or silicone liner. (If you only have one cookie sheet, allow it to cool completely before baking the second batch of cookies).
5. To shape the cookies, roll rounded teaspoons of dough between your palms into smooth, shiny balls measuring about 1 inch. The oil in the dough will keep it from sticking to your hands. Space the balls about 2 inches apart on the prepared sheets, 18 cookies per sheet. Bake, 1 sheet at a time, until cookies smell good and tops are dry and have many cracks, about 10 minutes. Do not overcook. Cookies should be soft, not dry. They will almost double in size when cooked. Cool the cookies on their baking sheets for 3 to 5 minutes, then transfer them to cooling racks to cool completely. Place cooled cookie racks on parchment paper or waxed paper.
6. To make the frosting, in a small bowl, use an electric hand mixer to beat the icing sugar, butter, 2 tablespoons of milk and vanilla until smooth and thick. The icing should have the consistency of heavy cream. If necessary, add more milk in droplets.
7. One at a time, dip the tops of 5 or 6 cookies in the frosting and place them upright on the cooling rack. Sprinkle them immediately with the colorful sprinkles or jimmies. Repeat with the remaining cookies. You can reuse any glitter that fell on the parchment or waxed paper. Let stand until the icing has set, about 1 hour. Serve or save cookies.
8. Storage. Store tightly at room temperature for 3 to 4 days. To freeze, place cookies on a baking sheet lined with parchment paper or foil and freeze securely. Transfer cookies to sturdy resealable plastic bags and freeze for up to 2 weeks. Completely thaw cookies in bags before removing and serving.
Greg Patent is a James Beard Award-winning cookbook author for "Baking in America," a food journalist, blogger, and radio co-host for "The Food Guys" on Montana Public Radio. Please visit his blog, www.thebakingwizard.com, and follow him on Twitter, Instagram and Facebook.